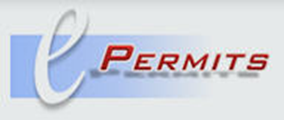 Welcome to ePermits
Harris County Building ePermits
The Harris County ePermits is an on-line application that has been designed with you in mind. This system allows you to take advantage of the following features and more:
ØResidential project plans are submitted where there is an Internet connection.
ØA click of a button requests a permit.
ØThe permit delivery and payment are both on-line.
ØData displays in a clear, easy-to-understand manner.
The opening screen contains a login dialog box. You must be a registered user to receive a user name and password.

After you choose a task, such as applying for a permit, a horizontal bar, a "chevron" bar, appears at the top of the form. The colored segments identify the steps you must take to complete the task. Below, notice the steps to follow when applying for a permit. The step you are currently on is always displayed in orange. For this task, Property Info. is the first step to complete.