1. Applying - Property Information
Hover over the Permits icon

. Click Apply.
The Apply for Permit form displays. Complete the first section, Select Permit Type, by clicking the radio button that applies, Pool Application, Residential or Temporary Construction Trailers.
Continue with the next section of the form, Property Owner. There are several required fields in this section. Complete the Property Owner Name. If the Property Owner is the same as the DBA, the fields will populate with the DBA information automatically. If it is not the DBA, be sure to manually complete all fields with asterisks for this section.
Complete the Property Type information by selecting the appropriate radio button: subdivision or survey. Complete all fields for the type you chose.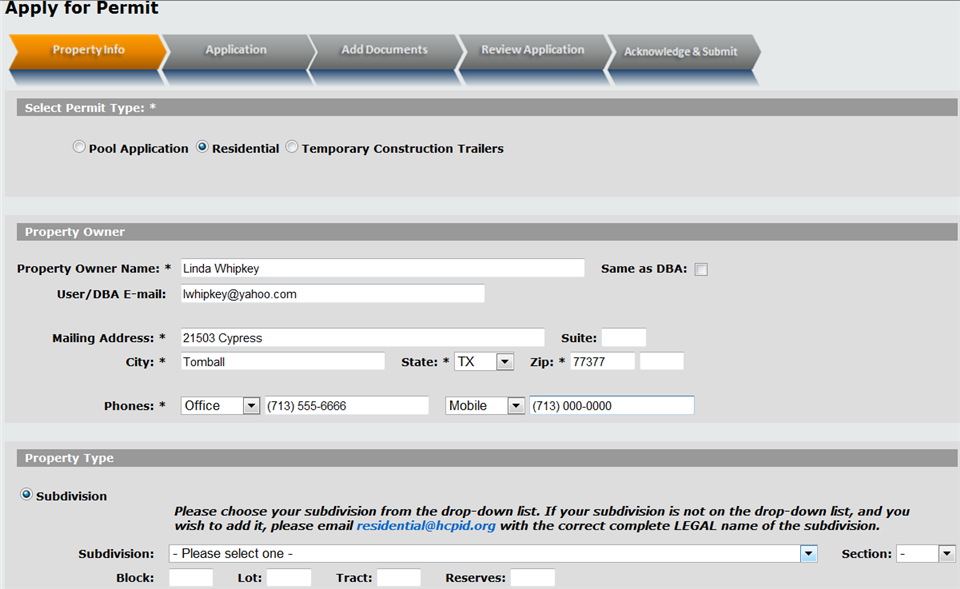 Continue to the bottom of the form.
Complete the Property Location information for all required fields. And any others that help locate the property for the permit.
The last section of this form is Payment Type. Check Will Call only if paying in person. If this is the case, you do not continue through this process.
Review all sections of the form for the correct information. You can still change the data at this point. Click Next. If you omitted a required field, the system will not proceed but will identify it with a tan caption prompting you to make the addition. So, if the screen doesn't advance, it may be that there is a caption near the top that you can't see. Scroll up to confirm and correct the error.
When the form is complete, click Next.
Note: Ctrl + Click to follow the link below.